Bøv

BÝv is the oldest of our cats. He is the son of Ylle
He is supposed to be a blue masked siamese, but he is very dark, he most of all looks like a chockolatemasked siamese. BÝv is a very daft cat, so he has probably misunderstood THAT aspect as well as numerous others. (the name BÝv meens goof in danish) On the other hand, he is a very well tempered cat, wouldn't harm a fly.

| | |
| --- | --- |
| | |
| a VERY small BÝv. Ylle is watching. | You don't scare ME, monkeyface!. |
When BÝv was a very little kitten, shortly after his eyes had opened, he discovered the World, through the hole in the box where he and his mother was. So he crawled towards the light, fell down and landed on his head. We gather that's what has caused his lack of thoughts :o)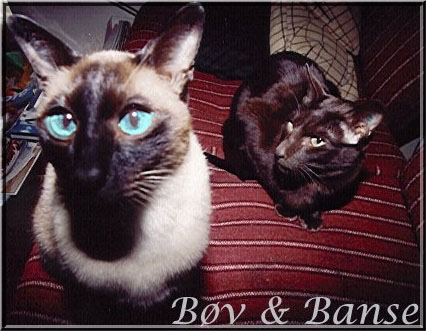 "What is that strange thing in front of your face?!"
Click the thumbnails to see the pictures in large.
---
© CutieCats 2001